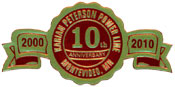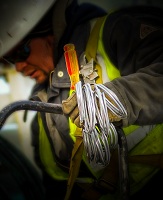 Karian Peterson may have openings for:
Journeymen & Apprentice Linemen
Underground Laborers & Operators
Substation Electricians
Mechanics
If you are interested in pursuing employment opportunities with Karian Peterson, please complete the application, consent and release forms below. Don't forget to include your resume when sending in or dropping off your application forms.
All employee's and equipment are subject to and/or adhere to the following:
FR Clothed
CPR – First-Aid Trained
Minnesota Motor Vehicle background check and current CDL's
Random drug and alcohol testing by occupational medical consultants
Daily safety tailgate meeting logs are required and turned in weekly
Annual truck inspection and dielectric testing by certified technicians
You may choose to complete our online application form by clicking here, or download the paper forms below.
Application Form
Consent Form
Vehicle Release Form