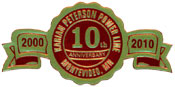 Karian / Peterson Power Line Contracting LLC was formed in August of 2000 when a group of electric cooperatives in southwestern, northern, central & western Minnesota organized themselves to diversify in their business activities. One of the first purchases this group of cooperatives made was Karian Line Construction. Shortly thereafter, the group also purchased Peterson Power Line Contracting. Making use of the economies of scale provided by the electric cooperatives and the merger of the two line construction companies, Karian / Peterson Power Line Contracting was born.
With more than 50 years of combined experience Karian / Petersen specializes in transmission & distribution lines, substations and underground facilities. Our contractors have traveled extensively throughout the upper Midwest constructing new lines and substations for municipal utilities, electric cooperatives, and investor-owned utilities.
We are dedicated to customer satisfaction. This commitment is evidenced by our efforts to improve workplace safety, training, and quality. The electric industry is experiencing dramatic changes. Karian / Peterson continues to expand its facilities on land west of Montevideo and implements positive growth strategies to best serve our customers today and into the future.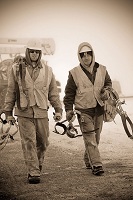 OWNERS
FEDERATED RURAL ELECTRIC ASSOCIATION
HIGHWAY 71 SOUTH
JACKSON MN 56143
PHONE 507-847-3520 FAX 507-728-8366
PKM ELECTRIC COOPERATIVE, INC
406 NORTH MINNESOTA STREET
WARREN, MN 56762
PHONE 218-745-4711 FAX 218-745-4713
MINNESOTA VALLEY LIGHT & POWER ASSOCIATION
501 SOUTH 1ST STREET
MONTEVIDEO MN 56265
PHONE 320-269-2163 FAX 320-269-2302
MINNESOTA VALLEY ELECTRIC CO-OP
125 MINNESOTA VALLEY ELECTRIC DRIVE
JORDAN MN 55352-0125
PHONE 952-492-2313 FAX 952-492-8281

SOUTH CENTRAL ELECTRIC ASSOCIATION
COUNTY ROAD 57 WEST
ST. JAMES MN 56081
PHONE 507-375-3164 FAX 320-507-375-3166
STEARNS ELECTRIC ASSOCIATION
900 EAST DRIVE
MELROSE MN 56352-0040
PHONE 320-256-4241 FAX 320-256-3618
WILD RICE COOPERATIVE INC.
PO BOX 438
MAHNOMEN MN 56557
PHONE 218-935-2517 FAX 218-935-2519